Please click on the image for details and price.

Canon 35. 1968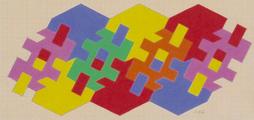 Extended Cube 2. 1966

Octagon 2. 1967
Biography
As well as an artist, was involved in kinetics and light projects, collage and colour photography. Born in Peterborough, he studied at the Royal College of Art between 1960-64. He showed extensively both in mixed and solo exhibitions internationally including in the Ornamentale Tendenzen which toured West Germany, in Jeux, Lumière et Animation at Galerie Lacloche in Paris and in Play Orbit in 1971. Solo shows included Grabowski Gallery, 1965-7-9, Angela Flowers Gallery, 1981, Rochdale Art Gallery and tour, 1983 and Urban Mirror City Paintings at the Royal National Theatre in 1997. This last exhibition revealed Bevan as a portrayer of the London landscape in rich colours and in his subsequent exhibition Play, at the same venue, continued the city theme, with ordinary people doing ordinary things. Bevan was married to the sculptor Pat Thornton. The couple used part of their west London house as Thornton Bevan Fine Arts to show other artists' works.