Please click on the image for details and price.

Removals. 1955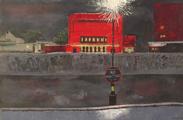 Swiss Cottage Odeon. 1949

Biography
Painter, illustrator, political cartoonist and printmaker, Boswell was born in New Zealand and studied at the Elam School of Art, Auckland and after coming to London in 1925, at the Royal College of Art. He began showing paintings from 1927 with the London Group and lithographs with the Senefelder club. In 1932, he gave up painting and joined the Communist Party and took to illustration and graphic design. He illustrated for AIA, of which he was a founder-member and for Left Review and the Daily Worker, under the name Buchan. After travelling widely with the army in WW2, he worked for Shell for two years before joining the staff of Lilliput magazine until 1950 as it's arts editor. He began to exhibit widely including the Royal Academy, Drian Gallery and Paris Salon. Boswell was also a persuasive writer, publishing The Artist's Dilemma in 1947 and amongst other things, wrote the centenary history of retailer J.Sainsbury Ltd.
In the 1950s and 60s, he diversified, finishing a large mural for the Sea and Ships pavilion for the Festival of Britain, designing a 'Let's go with Labour' poster and film posters for 'It Always Rains on Sunday', 'The Blue Lamp' and others. Boswell later worked as an abstract artist. His work is held by many galleries in Britain and New Zealand, including the Tate Gallery.